Kanon Loading Equipment B.V .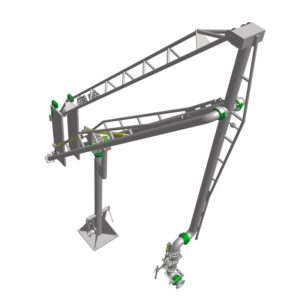 MARINE LOADING ARMS
A Marine Loading Arm offers a significant improvement over a hose in the transfer of liquids between vessel and shore because it provides an easier and more ergonomic operation, gives longer service life and permits Emergency Release Action without any spillage of product and without any pollution. Our Marine loading arms are manufactured in line with the latest requirements of OCIMF and major oil companies. KANON Marine loading arms require minimal maintenance and all product seals can be replaced without scaffolding or dismantling the loading arm itself.
TRUCK LOADING ARMS
Both types of loading arms are typically made of 3 pipes – respectively called inner arm, outer arm and drop pipe. The size can vary from 2" to 6". These 3 pipes are connected by swivel joints. Swivel joints are required to provide the flexibility needed. The loading arm unfolds to get the required working envelope to load or unload the tanker, and the reverse is to retract or get a minimal space for parking or storage. Both types of loading arms may be mounted on a column or via a plate to an existing wall. Balancing is needed due to the weight of the steel piping. Balancing of the arm is made by counterweight or by a spring balance cylinder.
SWIVEL JOINTS
Swivel joints have been used in the processing industry for a long time. The use of swivel joints in metal loading arms became critical because of the extraordinarily high bending and axial load combination, due to the reach of the loading arm and wind forces. KANON swivel joints are developed to withstand all these loads without leaking. In fact, leakage and regular maintenance is something which is unknown with KANON swivel joints By using KANON swivel joints it is possible to make all kinds of flexible connections using rigid pipes instead of using hoses.
FOLDING STAIRS
KANON Folding Stairs provide safe and efficient means of access between a loading platform and road or rail tankers. The spring-balanced design ensures easy operation by a single operator. Handrails fitted as standard. Automatic adjustment to tanker height. Built to latest safety standards. Kanon's Loading Platforms are used worldwide to achieve safe and easy top access of road and rail tankers from ground level. The Loading Platforms, combined with loading equipment, offer a complete solution without need for separate engineering.